198 SEO Tools In One List For 2018 by Chase Reiner
LINK BUILDING TOOLS
AuthoritySpy AuthoritySpy automates the ability to find and gather intelligence on influencers and authority bloggers in any niche. Simply enter a keyword or niche and find hundreds or thousands of influential people and websites to be leveraged for building connections, partnership opportunities, paid advertisements, interviews, link building targets and more.  
Buzzstream
BuzzStream is an outreach management platform that helps teams simplify and improve their whole process. Specifically, BuzzStream offers opportunities for contact discovery and research baked directly into the web to speed up and amplify existing efforts. It also provides multiple options for outreach, including lightning-fast personalization, bulk send, and automatic follow-ups (also all baked into both their interface and the web). Finally, it offers a full analytics and reporting suite so you can monitor earned links, measure campaign progress, and segment reports by teams or clients.
Check My Links
Check My Links is a Chrome extension that quickly scans broken links from any webpage with just a single click of a button. This is a tool you'll surely love if you practice the Moving Man Method or Broken Link Building.
Citation Labs' Broken Link Finder
Have you grown tired of searching broken links per page? Citation Lab's Broken Link Finder does the web search for the broken links proactively. You just need to enter the keyword and let the tool do all the work. It also allows you to use the Wayback Machine to view the previous content. You even have an option to sort it out by the number of people who linked to the broken links.
Citation Labs' Link Prospector
Link Prospector is a tool specially made for content marketers and link builders to help them organize and find new ways to do outreach. The automatic prospector gives the content the needed amplification to gain shares and links. Link Prospector finds opportunities for link building by scanning the web for guest posts, resource pages, blogs, news websites, and more.
Content Marketer
Content Marketer was an awesome tool that locates accurate contact details like emails. It even gives out email templates used for Linkedin outreach, guest post request, and others. Content Marketer is now rebranded as MailShake.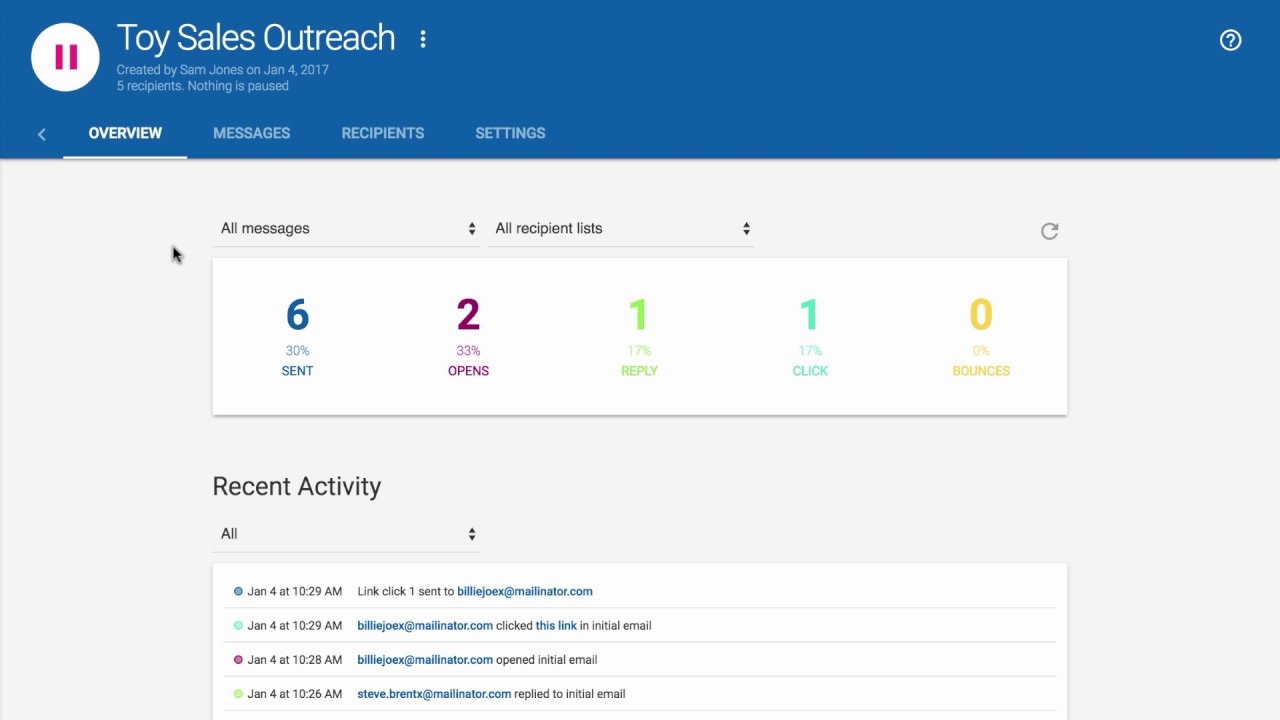 Detailed 
This tool is perfect forcontent promotion and link building. It generates updated website rankings within your niche that is sorted out by Twitter mentions and by links. detailed also gives you a report that includes who linked or shared to each website included in their database.
DIBZ
DIBZ is an almost automated link building tool specially made to save time and simplify the link building process and research on influencer opportunities.
Disavow.it
It helps you create and apply a disavow file that is readilly uploadable to Google Search Console. Very useful if you have a list of spammy links or URLs.
Domain Hunter Plus
Domain Hunter Plus is almost the same as Check My Links but with an added feature that checks the domain if it's available for registration. A great tool for those who use the Moving man Method or for broken link building.
Free Broken Link Checker
The tool is mainly used for checking a website for any broken links.
GroupHigh
GroupHigh is an advanced and easy to use outreach software for bloggers. It has a wide list of features that you can use. You just need to input some keywords to start searching for blogs within your industry. you have an option to narrow down the list of bloggers by filtering by last post date and Domain Authority plus reach out and track the results in the same platform.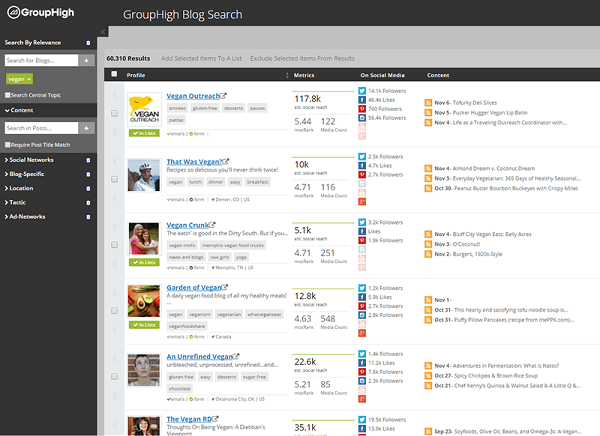 GuestPost Tracker
It is a huge database of guest post accepting websites which also allows you to track the websites that you have submitted to.
HARO (Help A Reporter Out)
Need to get backlinks from The Wall Street Journal and The New York Times? You can either enlist an expensive PR firm or you can utilize HARO. HARO is a tool that bridges journalists with sources. In the event that you connect a journalist with a pleasant statement or detail, they'll compensate you up with a link or mention.

Inky Bee
A great outreach tool for bloggers. Inky Bee provides you with a list of bloggers in an industry with just a simple keyword search. It even lets you sort the list by Page Authority or Domain Authority which makes it easier for you to connect with the best in your field.
JustReachOut
Get exposure and press publicity without the need to partner up with a PR firm. Connect with the right journalists simply by searching for a keyword and JustReachOut will produce a list of journalists that covers those topics.
Link Prospecting Query Builder
A very straightforward tool by Target Local. Simply enter your keyword and select the options suitable for your prospecting needs and the query builder will generate a text area and link list you can use for link building opportunities.
Linkbird
Linkbird, now known as Contentbird, helps companies to improve online visibility and gain clients with online content. It is a rank tracking, keyword research, link building, backlink analysis tool in one.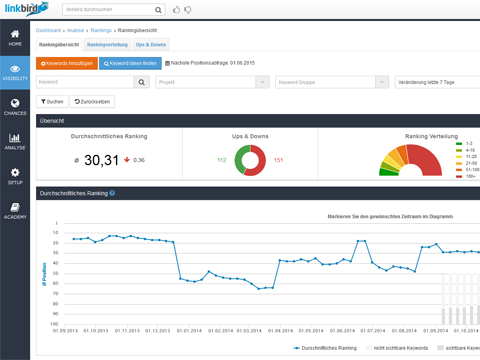 Link Miner
Similar to other tools, Link Miner scans a page for broken links. This Chrome extension not only checks for broken links but also check s how many links are leading to it. Very helpful for your broken link building. Link Miner can even show you a page's number of outbound links on Google SERP.  Which is again great for broken link building.
Linkody
Linkody is a complete solution for managing link building campaigns. It is used by thousands of marketing agencies, SEO professionals, and Webmasters to track and build links, spy on competitors, and avoid being penalized.
All the tasks of the link building process are covered: getting a clear idea of the link profile of your domain, identifying and disavowing harmful links, uncovering competitors' backlinks, finding high-value link opportunities, tracking newly acquired links, making sure they are not removed, and getting a clear idea of your progress.
To get the most comprehensive link profile and all the valuable metrics, Linkody gathers data from several sources like Majestic, Google Analytics, and Moz and uses its own bots.
Linkstant
Linkstant provides you with notifications everytime it detects new links through your mobile phone, email, etc. It monitors and records new links or linking URLs that it finds. You can get this just by adding a small code snippet on your website's template.
Marie Haynes' Disavow Blacklist
If you want to check a specific URL or maybe a list of them, you can always refer to Marie's list of spammy sites. This will help you find out if any of the urls you have is taking a toll on your SEO effort. If you find it included on Marie's blacklist, you may want to add it to or create a disavow file.
Muck Rack
It is an easy to use and powerful PR software that enables you to find the best and right journalists within their vast media database. It allows you to deliver customized pitches, work with your team, and measure your impact with this awesome platform.
NinjaOutreach
NinjaOutreach is a prospecting and outreach CRM that allows you to find leads for your next big link outreach campaign. It's a tool that can help you build more traffic and improve your site's ranking through link building and it comes with an automated emailing feature. Setup campaigns easily, send messages automatically, and never miss a follow up again!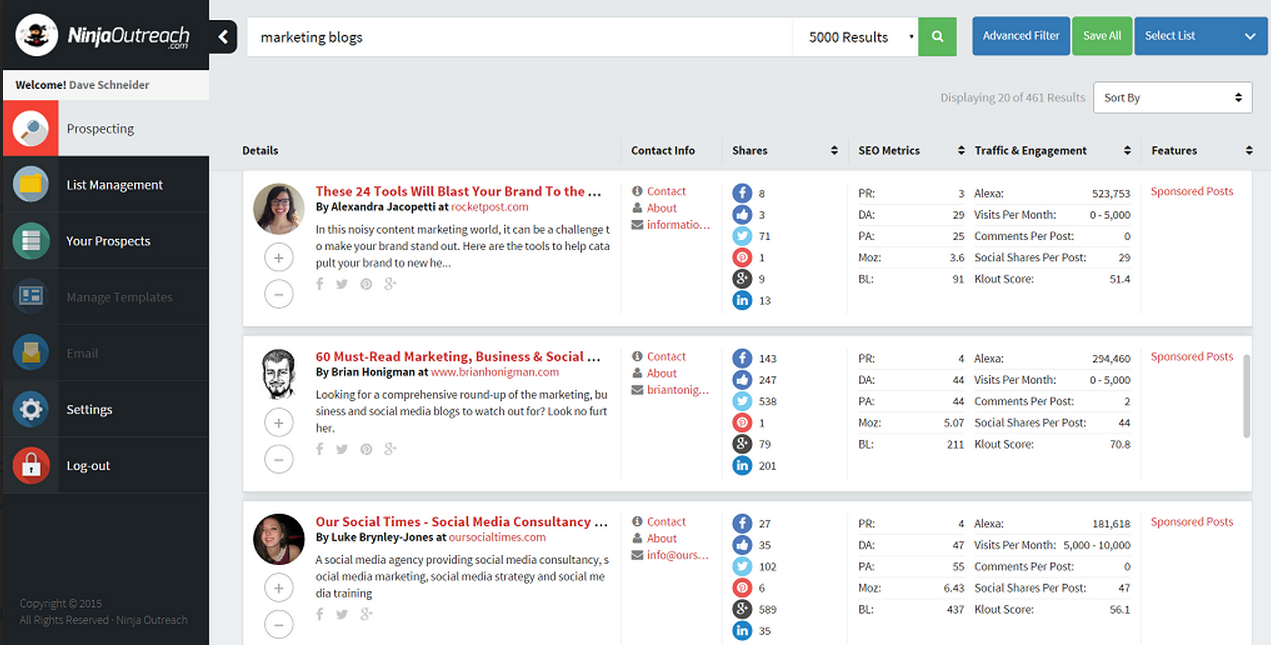 Ontolo
Ontolo is best for our online marketers who have very limited time to spare. You can get a detailed research and get more prospects without spending a lot of your time. You can get prospects for SEO, Link building, Content, Sales, Contacts, Advertising, Multimedia, E-Commerce, Social Media, Competition, Reputation, and more.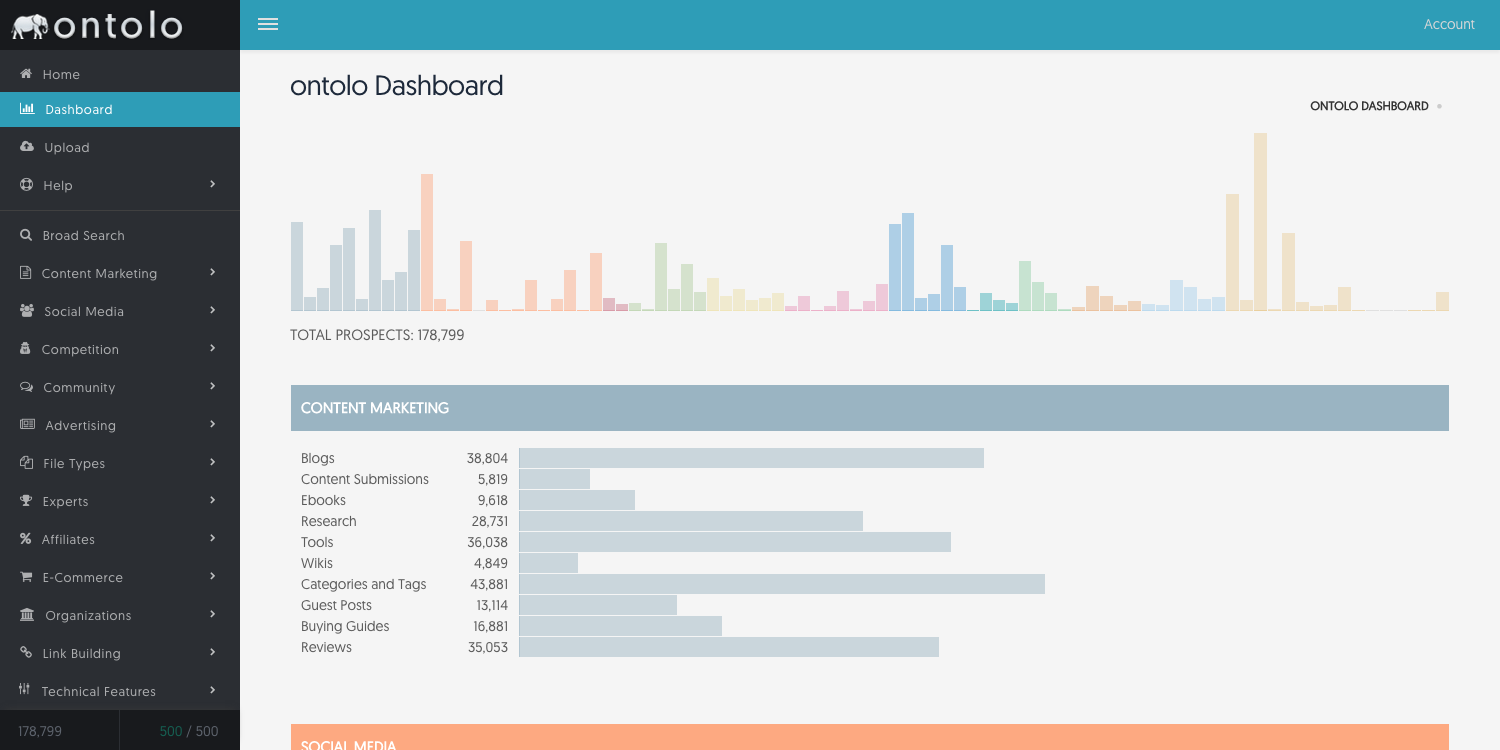 OutreachPlus
This is a new email outreach tool where you can send out personalized emails and automatic follow-ups to create more traffic, PR, backlinks, and sales.
Pitchbox
Pitchbox is an all-in-one outreach and link prospecting tool.  It has an easy to use interface. Simply enter the keywords and Pitchbox finds people from the web that you can outreach to and it automatically gets their contact details. You can now start your outreach and start tracking the results.
Remove'em
Remove'em is a platform that allows you to monitor and audit your backlink profile, create disavow files and perform outreach for link removals. It is backed with support and consulting from Hive Digital, a Moz-approved and award-winning digital marketing agency.
Rmoov
Rmoov is among the best on the market for link removal. It enables you to contact webmasters fast and easy to remove unwanted or bad links coming from a single or multiple URLs or domains. You can always monitor your campaign and get updates whenever links are removed.
ScrapeBox
Scrapebox is the best of best worlds. It is primarily built for black hat SEO but you can also use this for white hat SEO tasks like link building, finding contact information, link prospecting, and keyword research.
Siege Media Embed Code Generator
This is an image and video code generator that you can use to embed on your website. It even allows you to adjust the height and width of the image and video.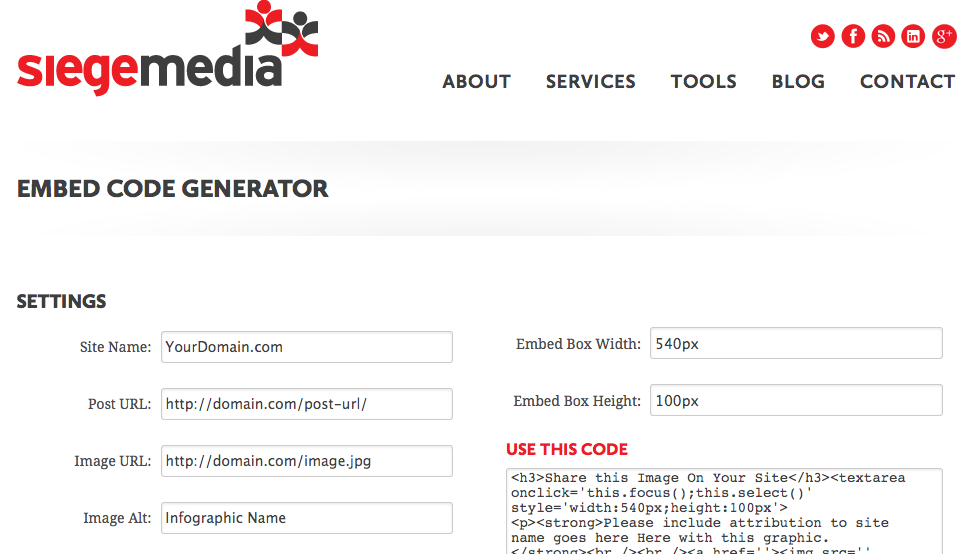 WordTail
It is a dedicated rank tracking tool and can tell you accurately how your keywords are performing.
Wordtracker Scout
Wordtracker Scout is a keyword tool which allows you to find the keywords used on any page. As a Chrome extension Scout sits in your browser and with just one click will discover the terms used on the page, matching them against the huge Wordtracker keyword database. The plugin is free to download and use.
Wordtracker subscribers have the added bonus of being able to pull the keywords directly into their Wordtracker account.
Zadroweb SEO Auditor
Zadro Web offers a unique SEO Auditor that provides many actionable data points, and the list is expected to grow to a full-featured crawler on GoAuditor.com by the end of 2018. The current release provides insights into organic rankings, Moz DA/PA, many technical SEO on-page factors, and a free downloadable PDF of your results. If you're looking for a nice display of your audit needs, take this SEO tool for a spin.
TECHNICAL SEO TOOLS
All in One SEO Pack
All in One SEO Pack is the original SEO plugin for WordPress and has grossed over 45 million downloads since its release in 2007. It is also one of the most popular tools to add Open Graph metadata for posts and pages. The plugin works out-of-the-box for beginners, but also comes with advanced features for pros and an expansive API for developers.
Bing Webmaster Tools
This is a good tool if you are more of a Bing user, similar to the Google Search Console, it tells you all you need about your website's presence in Bing. You should also utilize the keyword research tool of Bing. It can provide you the keywords that Google Keyword Planner may never show.
Botify
It is the first all-in-one suite of apps to join content, technical SEO, and real rankings. A straightforward and clean website auditing tool.
Bright Local
BrightLocal brings together everything an SEO working with local and multi-location businesses could want. It's the only SEO reporting, lead generation, reputation management and citations platform truly dedicated to SEO professionals; and its cost-effectiveness and efficiency save agencies huge amounts of time and money every day.
Fully white-labeled dashboards and shareable reports make it easy for agencies to tailor and showcase results to their clients in a manner they truly own. BrightLocal's citation building, clean-up, and management service offers a level of accuracy and speed of delivery unrivaled in the competitive business listings management industry.
Browseo
Browseo is a tool that lets us see a website without any style, just like how a spider sees it. It even highlights parts of the page that may be useful for SEO. You just enter the URL and you are good to go.
Clusteric 
Clusteric has a lot of features to offer like competitor analysis, site audits, domain visibility, link prospecting, and more.
Dareboost
Dareboost checks the performance and quality of a website. It provides you with a list of priorities that you may need to work on. It even has some suggestions on how you can do it.
DeepCrawl
As the name implies, it searches deeply into your website and then comprehensively reports to you how many broken internal and external links, no-indexed pages, H1 tags per page, and even too long Twitter Card descriptions.
EasyRedir
EasyRedir is a reliable, fast, and simple URL  redirection service that you can use for brand management, embedded links, marketing campaigns, and website migrations.
Forecheck
This tool checks for your websites existing issues that might be preventing you from landing on Google's first page. You even get a color-coded report so that you can manage which issue you want to address first.
Google Analytics
It is a freemium service offered by Google that provides you with web analytics. It tracks and reports the traffic from websites. It is the most used web analytics over the Internet.
Google Analytics Referrer Spam Killer
It is like a cleaning tool for your existing Google Analytics. It kills detected spammy referrer sites from your referring domain list once your Google Analytics is linked to this tool.
Google Mobile-Friendly Test
It is basically a tool offered by Google to test your web pages if they are easy on the eyes on a mobile device. It gives out a screenshot on how your website will look on mobile and will also inform you if there are any issues detected.
Google PageSpeed Insights
To put it simply, it analyzes your websites speed by going through your content. It will give you page speed and optimization results on both Mobile and Desktop view.
Google Search Console
GSC is a compilation of helpful Google tools that will show you security issues, number of indexed pages, meta data duplicates, and more.
Google XML Sitemaps
It is a tool that helps search engines like Bing, Google, Ask.com, and Yahoo to index your website better due to the specially created sitemaps that highly improves SEO.
GTMetrix
GTmetrix tells you how fast your site loads, using PageSpeed, YSlow recommendations, and real browser performance data. You can test and monitor your performance in a variety of scenarios that represent your actual visitors. Test from 7 different locations worldwide, from a real mobile device, with a different connection speed, and more! You can try these features with a Basic GTmetrix account – free!
HeadMasterSEO
It is a bulk link checker tool that will let you to check response time, 301 and 302 redirects, URL status code, sitemaps for errors, redirect path, and more. It even allows you to export the results to CSV.
Hreflang Tags Generator Tool
This is an hreflang tag generator that caters to different locations and languages. It uses the right syntax and values patterned on Google's specifications. Fast and easy to use!
Kill Duplicate
This tool will show you those websites that are trying to copy your content. It allows you to find out who takes your content and provides you custom solutions and track your actions.
LinkPatrol
LinkPatrol is a WordPress plugin that cleans up your outgoing link profile. LinkPatrol is the easiest way to keep track of, review and clean up links in your posts and pages. Its three-step process makes it extremely easy to use, all you need to do is Scan, Review and Take Action. Scan – Scanning your content for links takes several seconds and you only need to do it once. After the initial scan, all new and updated posts and pages are scanned automatically. Review – LinkPatrol reports help you analyze your linking out strategy, sorting links by domain, the author who added them or anchor text. All reports can be exported to CSV files and viewed in your spreadsheet app. Take Action – Once you've found some bad links you don't approve of, no need to edit each post that has them. You can simply no-follow or strip all links to certain domains or URLs.
Lipperhey
A complete free SEO package. It gives you backlink analysis, SEO reports, SEO analytics, keyword suggestions,  and website analysis.
Map Broker XML Sitemap Validator
A free tool that checks for URLs and if your sitemap is valid. If ever you have links in your sitemap, it also tests if these are working links.
Microdata Generator
Schema and Microdata generator to easily make Schema JSON-LD code for use on your Local Business Website and improve your rankings.
OnCrawl
This tool is made specifically to audit websites. It provides you HTML issues that can be detected as well as page depth, site performance, and duplicate content.
Open SEO Stats
A great SEO Chrome extension that gives you helpful information about SEO Stats, Traffic Stats, Site Info, Page Info, Link Stats, Page Speed, and more.
Panguin Tool
Barracuda first created the free-to-use Panguin Tool back in 2012 off the back of Google's Panda (2011) and then Penguin (2012) algorithm updates. The name is a splice of the two!
The aim of the tool is to facilitate the efficient and easy analysis of what effect Google's algorithm changes have on a given website's organic traffic over time. The interactive chart functionality includes the ability to click on the algo update line markers within the chart (e.g. at a point where traffic shows a sustained decline) and read-up (in the algo window that appears) what the update in question is about. Each algo update window also has a selection of curated information from around the web for wider reading and research. Users can also toggle different types of the update on and off within the chart, using the 14 different algo filters.
Now in its 4th iteration, Barracuda have added the option to add Searchmetrics SEO Visibility data alongside a user's Google organic traffic data, to enable a more holistic analysis. In addition, the tool has a complete interactive timeline for each of the 14 algo update categories, accessible from any of the algo update description windows. This enables instant deeper research in to the complete background of a given update.
New for 2018, Barracuda has created a spin-off tool called SEOCompare, which focuses on giving users the ability to purchase SEO Visibility data for theirs and their competitor websites. Once again, the Panguin algo update database can be activated and superimposed on the chart. This allows users to track their website's overall ranking performance over time against competitors, and reveals which websites benefit from Google's algorithm updates and which ones lose out. Relevant URLs: https://barracuda.digital/panguin-seo-tool/ https://barracuda.digital/panguin-google-algorithm-timeline/ https://seocompare.barracuda.digital/.
Plugin SEO
Plug in SEO is an app to check your site for important SEO, Speed and Blog issues that could stop you from performing well in search engines. With the free version, you can check an unlimited number of pages for SEO errors, including fix instructions, and there's a fortnightly check email that's free too. For Shopify users, we offer an upgrade to Plug in SEO Plus at $20/month. It's a set of SEO enhancements out-of-the-box and tools for you to manage your SEO effectively. There's a video mini-course that comes with it too and premium support over email. With Plug in SEO Plus, you can use or tweak our recommended templates to bulk edit your page titles and meta descriptions.
Raven Tools
A professional level tool made for agencies in digital marketing. It shows you precisely the things you need to accomplish in order to fix the current SEO issues your website has.
Referral Ghost Spam Removal Tool/Loganix Ghost Spam Removal Tool
The Loganix ghost spam removal tool was built to help webmasters save time when looking through analytics and researching referrers. During the past few years, spammers took the opportunity to directly advertise directories, mailing products and general SEO "tools" by spamming webmasters at pretty much no cost by simply pinging google's servers to record a "site visit" to anyone who is using Google Analytics (which is pretty much everyone). Loganix combatted this by putting together a blacklist of the worst offenders. Over the course of the past few years, this blacklist grew to the best list of spammers to block by a simple one-click filter that's safe to use inside google analytics. Here's a more detailed description (https://loganix.net/referral-spam-solved-give-your-analytics-an-anema/) with a direct link to set up the most recent filter, You'll be live in only a few minutes and will save time every day by not even seeing the spam directed at your sites.
Rel Nofollow Checkbox
A plugin for WordPress that helps you in tagging links in your website as nofollow.
Screaming Frog SEO Spider
The Screaming Frog SEO Spider is a website crawler, that mimics a search engine bot and spiders all links on a website. It helps identify errors like broken links or redirects, identify common issues like missing page titles, or orphan pages, and provides key site data to make informed SEO decisions. It's free to use for crawling up to 500 URLs, and a paid licence allows you to crawl into millions.
Search Analytics for Sheets 
This is a Google Sheets add-on that you can link with GSC. It will let you see data for more than 90 days back.
SEO & Website Analysis (WooRank)
It is a free Google Chrome extension that shows you SEO information with just a click of a button from your browser. This can be useful for your own website but is also great in checking your competitors SEO info.
SEO Monitor
An SEO system that will provide great SEO reports. A complete dashboard to manage your SEO performance. It helps you find out keywords that will convert well.
SEO Site Checkup
SEO Site Checkup's goal is to make search engine optimization (SEO) easy. We provide both a free and paid version of professional-quality SEO tools that provide analysis and critical SEO monitoring for sites. We make our tools intuitive and easy to understand, and have we've helped thousands of small-business owners, webmasters and SEO professionals improve their site's SEO!
SEO-Browser
A tool to let you see your website like how search engine spiders sees it.
SEObility
A user-friendly yet powerful website Auditor. Use it to better optimize your website.
SEOmator
It's like a health-check for your website with this site auditor. It provides in-depth SEO analysis and an on-page SEO testing tool.
SERPmetrics
SERPmetrics API collects data, analyzes data, and permits programmatic access. It shows you a graph of the keywords that you add to the queue that is checked continuously every 24 hour time-frame.
Simple Htaccess Redirects & Rewrite Generator
This tool generates a code that you can add to your .htaccess file to make sure that your redirects are correctly setup.
Site Analyzer
Site Analyzer is an all-in-one SEO platform allowing you to optimize your website effectively and efficiently. We offer high-quality tools which are rich and reliable in data to get your website ranking at the top of search engines. Our tools include: Rank Tracking, Page Analysis, Site Crawl, Backlinks Audit and Keyword Research (grouped with SEO Benchmark and Site vs. Site). We also offer report exporting in PDF and csv format along with a white-label report option. Users can take a free 14-day trial (no credit card required) with access to all our tools and our paying plans start from $49 per month.
Site Condor
Site Condor was acquired and integrated into the gShift SEO platform as our Site Audit module a couple of years ago. Neither Sebastian or Judd are associated with gShift.
Below are unique descriptions for both our Site Audit module and the larger SEO platform.
Site Audit
The gShift Site Audit tool provides a quick way to crawl, read and evaluate your on-page SEO elements and structured data. It delivers prioritized reports in Excel or PDF formats based on SEO best practices in order to improve your organic search visibility. Learn more at – http://gshift.it/xpkrelt
gShift Platform
gShift is an Enterprise SEO and content performance platform which combines data, insights, activity tracking and reporting to help brand marketing teams and agencies save time "doing" SEO. The platform offers in-depth keyword research, full site and single page auditing, global/local/mobile rank data, Majestic SEO backlink integration, Google Analytics and Search Console integration, competitive discovery and analysis, social signal monitoring, custom dashboards and white label reporting. In addition to SEO, the platform includes on-site, off-site and offline content performance tracking via an enterprise smart URL system called kontextURLs (kurls) and an influencer marketing module for finding influencers and tracking the performance of influencer marketing campaigns. gShift saves marketers significant time gathering data and reporting on SEO and content marketing campaign performance and ROI. Learn more at http://gshift.it/5s2aaqq.
Siteliner
A super fast technical SEO scanning tool. It is great in identifying duplicate contents within your website. It even gives you site comparisons that shows you the average page size, average page load time, duplicate content, number of words per page, text to HTML ratio, common content, and more.
Topvisor
This is best to be used by someone who manages multiple websites as it can keep all one projects in one place. It has both PPC and SEO tools in one. It is not easy to use so you really need to familiarize yourself with all the icons there. It's quite fun while waiting for the result though, it has games that you can play.
Varvy SEO Tool
It is a fast SEO tool that shows you summarized results for mobile devices, Google bot access, security, accessibility, page speed, sitemaps, and others.
Website Grader by HubSpot
This tool ranks your site overall by SEO, site performance, mobile compatibility, and security.
Website Penalty Indicator
Each year, Google changes its search algorithm around 500–600 times, and while most of the time these changes are minor, it can make it difficult for digital marketers to keep tabs on how algorithm changes are affecting their web content. Search marketers, publishers, content managers and online entrepreneurs use FE's website penalty indicator to help explain changes in rankings and organic website traffic as part of a long-term strategy to improve search engine optimization for their site. If you suspect you've been penalized, you can use the tool to check if there was a big update at the same time. If you can pin your suspected penalty down to a specific update, then with a little additional research around what that update was aimed at and why you may have been affected, you can strategize how to recover. For example, last year's Google Fred update targeted sites whose pages were overly monetized or spammy as well as sites with low-quality content. Therefore if your traffic dropped right during that time, you can reason that it's probably NOT a technical issue, but an issue with your site's level of affiliate links or thin content, and shift your research and strategy to that end.
Whitespark
Whitespark can be integrated with Google Analytics and it allows you to locate NAP citations easily. this is best used if you do local SEO for your clients. It lets you get to know more your competition, list your business in the right place, and track your citation growth.
Woorank
It is a high-ranking site analysis tool. It ranks your website based on its criteria if it passed, needs improvement, or if it has errors.
Yoast SEO Plugin
Top WordPress plugin for SEO. It has a bulk editor that is very useful for editing multiple pages in a click. It takes care of your WP SEO, helps you create amazing content, and overall keep your website in great shape.
KEYWORD RESEARCH TOOLS
AdWord & SEO Keyword Permutation Generator
If you are already running out of long-tail keywords and you only have a few in mind. Try this tool and enter as much keywords you can think of. This will help you in combining those words by generating permutations.
Answer The Public
Easy and simple to use website that will provide you with questions for the keywords that you will enter. These are questions commonly asked by your audience and it will be a great tip to use those for your own keyword list. You can even see the list by question, comparison, preposition, and more.
ClearScope
Simple, easy to use, and very helpful. You just enter the keywords that you need and it will tell you the terms that you need in your content and how much you need to use it.
FAQfox
A tool you can use to specifically scrape questions from any website or just a single one. This is great if you know your target audiences' usually visited sites. It even has an option for you to choose a category.
Google Correlate
This tool from Google helps you in finding correlated searches to the keyword that you are aiming for. It's really easy to use and helpful in getting most searched terms associated with it.
Google Keyword Planner
GKP is a tool that can help you in expanding existing campaigns or start a new one. It will assist you with keyword generation, keywords trend, historical stats, ad group ideas, bidding, competitions, and more.
Google Location Changer (SERPs)
This Google tool is helpful with your local SEO campaign as it shows you SERPs for a local area even though you do not reside there.
Google Trends
It is a keyword tool popularity check. If you want to know if your keyword is getting more popular this is the right tool for you.
Gookey 
Great tool for bloggers use. Gookey removesall the complicated information and only gives you simple data. Perfect for bloggers or those people who are not really technical.
GrepWords
GrepWords has a numerous tools and API for your convenience. Ranging from Keyword Lookup, Browser Plugins, Commercial, Video, and Local Intent, API Access, and more. With their huge and new database, GrepWords also provides you with a feature that will allow you what keyword is on-demand for a specific time of the year.
HitTail
HitTail is a dream long tail keyword tool for website owners, bloggers and marketers who want to increase traffic from Google and other search engines. HitTail is the only long tail keyword tool that generates keyword suggestions by analyzing your existing website traffic. It provides you with very specific long tail keywords that are relevant to your audience. And what is important, you don't have to be an SEO or spend hours on keyword research – HitTail works in the background, constantly giving you new keyword ideas, while you can focus on other stuff.
Imforsmb.com's Bulk Keyword Generator
A helpful tool for local SEO keyword search. It can help in locating keywords that potential clients look for. It can provide you a handful of keywords that they possibly use in Google. A little short on the business types but if your local client belongs to one of this, it's really helpful.
ISpionage
iSpionage helps you in generating more leads, get your targeted traffic, and increase conversion rates. It allows you to do a competitor keyword research that helps you in getting profitable keywords with their list. Best for PPC.
Jaaxy 
Specially developed for affiliate marketers by the affiliate marketers themselves. Made to speed up the process of competitor and keyword research.
Keyword Eye
Shows you what your competitors do to rank higher and also helps you in saving, analyzing, and syncing your keywords. It even color codes as per Adwords competition.
Keyword Revealer
This tool will give you keyword suggestions in a tree format that you can expand by clicking on a branch. It also allows you to import and save keywords and access them by project.
Keyword Snatcher
A keyword tool that generously gives you keyword suggestions from different sources. It even lets you generate local keywords from their massive database of different cities.
Keyword Tool & Content Assistant
Finding new keyword suggestions will definitely help you in creating a better content. It provides keyword suggestions, ranking analysis, and lets you optimize your content to rank better.
Keyword Tool Dominator
Keyword Tool Dominator leverages the power of the enormous auto suggest keyword databases provided by Google, YouTube, Amazon, eBay, Etsy, and Bing to make keyword research simple and easy with no more guess work by uncovering "real" keywords used by "real" people as "actual" search terms.
Keyworddit
A new keyword tool that searches through Reddit to find the commonly and most searched terms for you through a subreddit search.
KeywordIn
Mix and match of seed keywords in order to generate a totally new set of search terms. Just search the terms in GKP to see if these terms are being used by many.
Keywords Everywhere
A browser extension available for both Chrome and Firefox. It adds CPC, search volume, and competition info to your favorite sites.
KeywordSpy
KeywordSpy helps you in performing keyword tracking and advanced keyword research to learn more about your competitors advertisements via Adwords and some PPC campaigns.
KeywordTool.io
Keyword Tool is free online keyword research software which uses Google autocomplete to generate hundreds of targeted keyword suggestions on any topic. A single query using the tool can generate up to 750+ keywords based on your seed keyword. The tool also provides keyword suggestions in the form of questions and prepositions to help you find additional long-tail keywords.
The paid version of the tool comes with 2x more keywords and powerful features to help with your marketing activities, such as providing accurate Google search volume data, trend data, Adwords CPC and competition data. You can use Keyword Tool for your content creation, SEO, Pay-Per-Click advertising and other marketing activities.
Kombinator
The tool is originally designed for Adwords but you can still use it for your organic SEO projects. It combines different keywords and the tool will mix them up to generate new terms. You can use this and check for the search volume in GKP.
Kwfinder.com
KWFinder is your #1 tool for keyword research with more than 1 billion keywords in the database and one of the most accurate keyword difficulty score on the market. Its easy-to-use and productive interface will guide to find hundreds of new keyword suggestions with low SEO difficulty for your niche. KWFinder is a freemium keyword research tool with many useful features such as immediate SERP analysis, crucial SEO metrics, exact monthly search volumes, keyword lists and the options to import of your own lists of keywords.
Long Tail Pro
Long Tail Pro is a keyword research tool with a built in keyword competitiveness (KC) metric. With this tool you can find hundreds of low competition keywords. Not only this but Long Tail Pro has many great features such as: Use Rank Value to discover Keyword Profitability Scope out the Competition with Detailed Metrics Filter, Sort, and Export Results As Needed In Depth Domain and Page level Metrics.
Power Suggest Pro
A desktop software that will let you discover low competition keywords while discovering what the people really searches for.
Sanity Check
It helps your with your GSC data by letting you discover content ideas, SEO tests, see pages for improvement, track keyword ranks, and more. This is not limited on the First page of Google since with the Striking Distance Keyword feature it can also show you what's ranking on the next two pages in a single click.
SECockpit
"There are two things that need to be clear to understand the difference between SECockpit and other keyword tools.
The first is that many keyword tools check the number of results returned by Google, when a keyword is searched for in quotes. You can go ahead and search for any keyword in quotes in Google, and you'll see that there's an estimated number of how many results Google found in total.
Many tools use this number to determine the competition difficulty of a keyword. The idea is that if the number is lower, you have fewer competitors and therefore it's easier to rank for this keyword. Unfortunately, this number has no real-world correlation with how easy or difficult a keyword is to rank for.
The second thing is that some keyword tools offer a "closer analysis" of a keyword. They fetch the currently top ten ranking websites and analyze those pages, the number of backlinks to those pages and other SEO metrics. This is the true way to determine SEO competition: you need to take a close look at those factors that make the top ten pages rank where they do. You need to find out if they are well-optimized pages, whether they are pages on authority sites or not and how many backlinks they have.
The downside is that this kind of analysis takes quite a long time to complete. A typical desktop-based keyword tool will probably need a minute or two to gather all this data. SECockpit gathers all this data, for all the keywords it returns and it does so at a rate of hundreds of keywords per minute.
And that's it, really. What you see when you look at a list of keywords in SECockpit, with the competition bar displayed, is the equivalent of what you'd get after running keyword analysis, one by one, on a desktop tool for hours on end. But in SECockpit, it only takes around 30 seconds to generate the whole list."
Seed Keywords
"The way people use search is constantly evolving and forward thinking marketers should be interested in how real people attempt to solve a problem using search. Seed Keywords is a simple tool that lets you do just that. By creating a scenario, such as, "You're thinking of buying a fitness tracker, what would you search for?" marketers can send their network a link and see what search terms people used to solve the scenario. It's a simple way to get inside the heads of real people and discover search terms you might have missed."
SEMrush
SEMrush is the leading digital marketing toolkit for SEO, PPC, social media, and content marketing professionals around the world. We have over 25 tools and 140 global databases that offer solutions to anyone who needs to make data-driven decisions for an online business. We are an industry leader when it comes to the quality of data and the number of tools we offer, especially for the price of a SEMrush subscription. Our software is great for both agencies and in-house teams. Our workflow between tools is easy, making it an obvious solution for marketing teams of all sizes. You can even integrate your Google accounts (Search Console and Analytics) with SEMrush to pair your internal analytics with market data!
SEO Book's Free SEO Tools
SEO Book offers a broad range of popular SEO tools including a keyword research tool, a keyword density checker & a number of web browser plugins.
SERPStat
Keyword suggestions, competition data, search volume, and more are now provided in this growth hacking tool.
SimilarWeb
SimilarWeb allows you to research, track, and grow your website through its awesome tools and stats. It shows you your website audience, traffic sources and destination, website content, and competitors.
Soovle
This tool shows you autocomplete search suggestions from several search engines like Google, Yahoo, Bing, YouTube, Amazon, and more.
SpyFu
It shows you different keywords both organic and paid plus a comparison of a shared organic keywords between your website and your competitors. SpyFu also offers other SEO tools like SEO Research, PPC Research, Keyword Research, Backlinks, Tracking, and more.
StoryBase
A great tool to help your website grow organically by showing you long tail keywords or possible search phrases that you can use in creating your content. StoryBase even shows you demographics and questions searched related to the phrase that you're interested in.
Suggestion Keyword Finder
This tool gives you keyword suggestions by levels. You just enter a main keyword and this tool will provide you with sub keywords. Each level shows you with your main keyword and creates a new main keyword and sub keywords as you go on to the next levels.
TermExplorer
TermExplorer is a competitive keyword research tool that has an automated keyword discovery, provides you with full SERP information, comprehensive competitor data, unlimited report history, and others.
UberSuggest
A keyword tool that will provide you with competition, CPC, search volume results coming from the scraped Google Autocomplete data.
Webtexttool
An all in one content optimization and keyword research tool. Webtexttool shows you relevant keywords along with the ratio of competition and search volume. It even has an overall assessment if the keywords are relevant for you.

Wordstream's Free Keyword Tools
This tool allows you to find new keywords based on mashed up keywords put together. It was made for Adwords but the free tools is very useful for the SEO campaigns. They even have a Keyword Niche Finder that allows you to get keywords based on different niches.

WordTracker
Wordtracker Scout is a keyword tool which allows you to find the keywords used on any page. As a Chrome extension Scout sits in your browser and with just one click will discover the terms used on page, matching them against the huge Wordtracker keyword database. The plugin is free to download and use. Wordtracker subscribers have the added bonus of being able to pull the keywords directly into their Wordtracker account.
RANK TRACKING TOOLS
Advanced Web Ranking
AWR is a hybrid tool that combines the power of keyword research, rank tracking, and website auditing tool. It is accessible from any device and gives you an easy interface to work in.
Agency Analytics
A great reporting tool for use of digital marketers. This will allow your clients to easily understand what is going on with their social media and SEO. It can be integrated with YouTube, Google Analytics, Twitter, and others.
AMZ Tracker
AMZ Tracker is a must have tool for Amazon Sellers. It helps you to grow and keep your rankings at the same time.
Authority Labs
Authority Labs will provide you reliable and accurate search engine rankings and keyword understanding. It helps you track your local ranking, SEO monitoring automation, and recover keywords. It even allows you to track your competition.
GeoRanker
A very helpful tool to track your local ranking. Simply provide keywords and local places and get a report that will show Google local and organic results.
Microsite Masters
A great rank tracking tool that really keep scores. It has a Scoreboard feature that tracks the keywords with most movements, both positive and negative.
NightWatch
A wide-range location scope to track  your rank, see any performance change from your competitors, and control where you rank among the ranking types with  in-depth analytics.
Pro Rank Tracker
PRT offers the best return for money value you can find in the rank trackers market. We've been in the business in the past 6 years and we commit to 100% accuracy.
Pro Rank Tracker offers a vast verity of features, as:
Daily rank checks
Geo-targeted location-based tracking
Accurate search volume
A wide variety of reporting and analysis options
Automated reports (email, cloud storage)
Live (link based) shared reports – can be fully white labeled: domain masking, logo and report colors.
Rankings Discovery
MyRanks – mobile app for your clients
Sub accounts for an organized team work or outsourcing
API access for all enterprise plans.
The reports, MyRanks app and Sub accounts can be white labeled (branded), and Masked with your domain. You can see here the full list of search engines that your URLs can be tracked for: https://proranktracker.com/se-list We specialize in rank tracking. Our emphasis and expertise help us stay the best, and offer you the most professional and up-to-date tools, there are, for your SEO mission.
TRACKING GLOBAL – LOCAL – INTERNATIONAL SEARCHES
Track terms in any language, and from any country or city in the world.
LOCAL RANK TRACKING
Track your websites rankings across a huge range of search engines, including local rank tracking on 187 Google sites, 35 Yahoo! sites and 32 Bing sites, YouTube and all Amazon Local sites.
GOOGLE ORGANIC, LOCAL, MAPS & MOBILE TRACKING
Google organic local tracking, narrowed down to City level Google Snack Pack (local 3-pack of listings on 1st page) Google Local Finder (full top 100 map listings) Google Mobile results "from" all common mobile devices.
EXACT SEARCH VOLUME DATA
Get up-to-date global and local Google exact keyword search volume data.
MULTI-LINGUAL PRT
Offers a professional interface and reporting in various languages, such as: Spanish, French, German, and more.
Rank Ranger
Rank Ranger offers SEOs & digital marketers a customized data experience that allows for highly actionable insights.
Powerful marketing copy aside, what does that actually mean?
The basic premise behind Rank Ranger, and what subsequently sets it apart, is that it considers the unique context of its users. That is, every SEO, or SEO agency, has a unique set of considerations and problems that fall under their purview. Rank Ranger was designed to be highly malleable so that SEOs can create data that helps shed light on actual solutions to their specific problems.
So how do we actually do this?
There a few ways Rank Ranger goes about offering actionable and customized insights: Custom Charts, Graphs, and Reporting Options
Our platform provides numerous options for creating, from scratch, original graphs. Meaning, our users can choose which data source, which metrics, and which reporting periods they want to analyze. Via these options users even integrate in-house data so as to create a complete data picture.
For example, a user can create a graph that compares their Bing Ads performance to that of Google AdWords. They could then integrate a Google Sheet so as to be able to compare the data to their overall advertising spending.
All of this data, along with any other data found within Rank Ranger can be shared, whether internally or externally, on a dashboard that is 100% customizable (we say 100% because you can access the HTML & CSS in order to make the dashboard look & feel like any site).
Lastly, we offer a "WeDevelop" program where users can custom order reports, or even report options.
Data from Multiple Perspectives
To help users access insights that align to their specific needs we offer data from multiple vantage points. Take rank tracking. We don't simply offer a rank tracking dashboard. There are multiple reports that present rank data from different, yet nuanced perspectives. For example users can access reports that track rank from a competitor analysis or from a multiple search engine performance perspective, as well as access a day-by-day breakdown across all keywords or by tracking landing page fluctuations for a given search term.
The same applies to competition analysis. Users can do anything from discovering who their top competitors are (both for paid & organic search) to seeing the actual changes the competition has made to their titles, descriptions, or even ad copy.
SERP Feature Analysis
Lastly, we put a strong emphasis on SERP feature analytics, as we see them as an ever-important part of "opportunity" within the current ranking paradigm. Rank Ranger allows users to understand the "full SERP," how they appear on the SERP, and how that impacts rank.
To that extent users can:
Track SERP feature gains and losses
Find Featured Snippet opportunities
View the SERP as it actually exists for a keyword
See which features share the page with their URLs across multiple keywords
Know if their URL appears above the fold
Rival IQ
It gets your SEO and social media presence in comparison to your competitor. A great tool to use for increasing your social media presence and improving your strategy to rank better than your competition.
Search Latte
An easy way to get information about what people think all around the world through Google search. Simply enter your keyword and get redirected to the international Google search result you need.
SEO Rank Monitor
The SEO Rank Monitor checks your YouTube ranking as well as monitors your keywords vs your competition.
SERanking
Great tool with a lot of features. SERanking even has a walk-through on how to use their tool on your first setup to avoid you being lost. It has a detailed and historical ranking data to show you as well as other features such as backlinks monitoring, online marketing plan, social media, competitors, analytics and traffic, and website audit.
Serpfox
One of the pioneers in rank tracking that gives you accurate data efficiently.
SERPs.com
A rank tracking tool that has a built in keyword research capabilities. It also let you test on your changes for on-page SEO and it will tell you if it had made an impact over a period of time.
SERPWoo
This tool shows you where the page ranks and the changes it has gone through over a period of time. It shows you a page's stability too through its volatility feature.
Sistrix
Since 2008 the Sistrix Toolbox has been gathering search engine data on practically every domain. The Sistrix Toolbox provides the most important SEO performance indicators and a deep set of data and analysis. You don't have to install any software or spend time creating projects. Just call up the results and evaluations in your browser with just a few clicks. This ease of use, combined with the quality of our data and our unrivalled customer support, has made the Toolbox the most popular SEO tool in Germany for many years.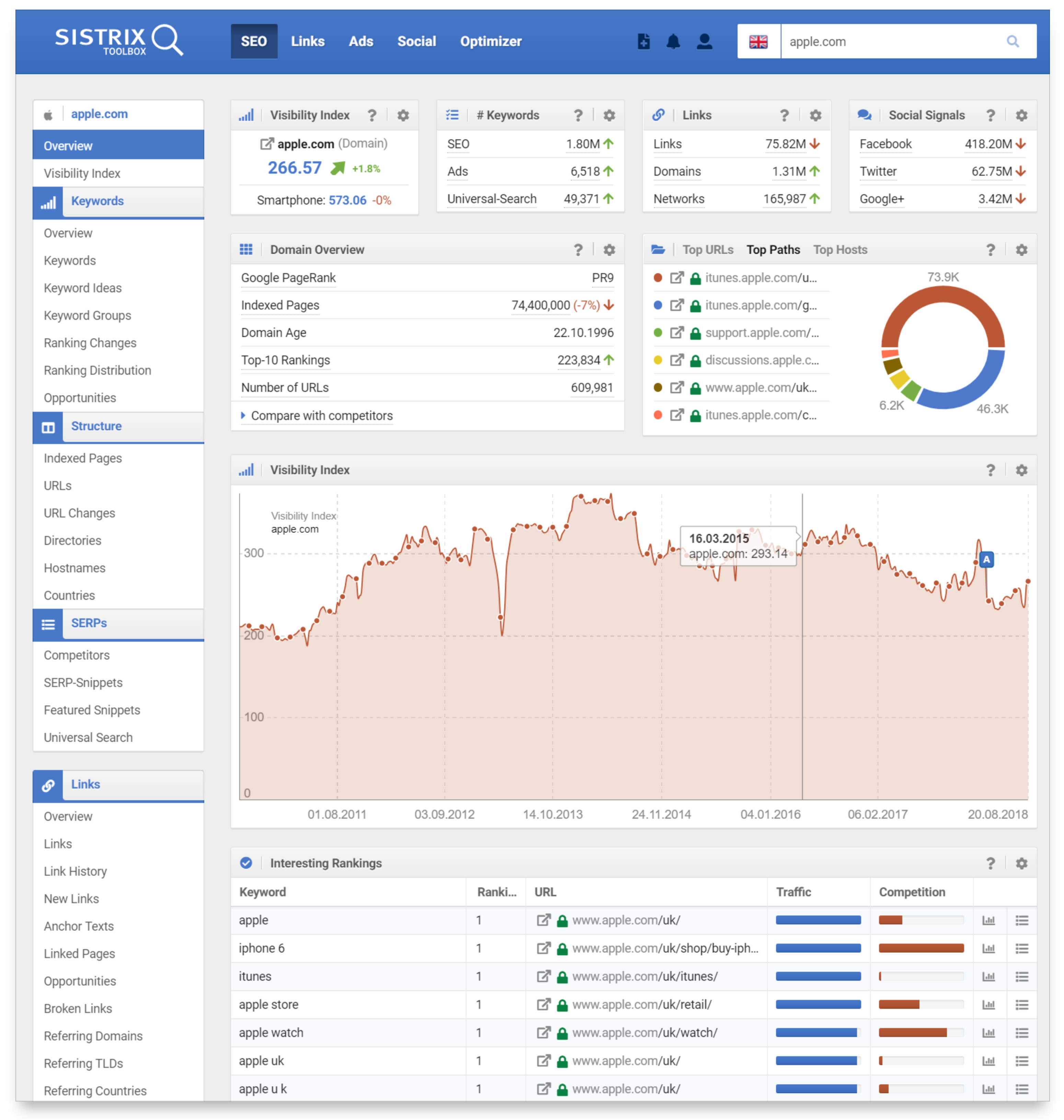 WebCEO
WebCEO is a powerful internet marketing tool that will help you with your SEO and SMM. Easy to navigate and has a lot of helpful tools. You can even see your dangerous competitors and their current rank status.
Wincher
Great rank tracking tool for those who are looking for a free resource of information. It has keyword research, competitor monitoring, reporting, and rank tracking.
WordTail
This tool gives you an information on where your website is currently ranking per engine. It gives you position reports, tracks your competitor, Google Analytics overview, and other webmaster tools.
CONTENT OPTIMIZATION TOOLS
BuzzSumo
It helps you in easily finding amazing content. It has a content analyzer that you can sort by engagement or share.
Can I Write
Can I write is an easy to use tool that shows you your site marketing performance, opportunities, how to grow your content, improve and promote your rankings, build authority, and grow followers. It is loaded with content ideas for you to use.
ClickFlow
What's better than knowing which site version you have will give you more revenue and traffic? ClickFlow will show you which site pages have more growth potential and you can even run tests to see which one performs the best.
EpicBeat
This tool will show you what is the best content type based on your industry. It shows content insights such as top domains, top formats and content types, top analysis, top authors, text analysis, and popular days to publish.
Google SERP Preview Tool
This tool will let you preview how your site will appear on Google search results by entering your meta title, description and URL.
Keys4Up
Keys4Up shows us what LSI keywords is all about. They give us keywords really related to the keyword search term that you entered and not just some mashed up terms.
LSIGraph
This tool will help you in generating your Latent Symantic Indexing keywords. Just put in a keyword and it will give you a list of phrases that will be helpful for your content.
MarketMuse
MarketMuse will give you your content page score and relevant subtopics that you can include in the article. It even provides you with a recommended word count for the topic and relevant questions that you can possibly include in the article or content.
nTopic
nTopic is a platform that suggests keywords to include or exclude from your content in order to be more topically relevant for the keyword phrase or phrases for which you are trying to rank. nTopic uses latent direchlet allocation, a form of statistical modeling of the English language to build its recommendations. The platform is used by agencies and marketers looking to improve their content and rank for more keywords.
Positionly
Now known as Unamo, Positionly help you with your keyword rankings, backlinks and optimization research, as well as reports.
Ryte
Ryte has a page analysis
Schema App
SEO Plugin By Squirrly
Squirrly SEO is a WordPress SEO plugin that can be used even by non-SEO experts. The tool provides the necessary features and guidance so that you will know how to optimize your site for search engines.
The plugin can be used even by those who run an eCommerce site through WooCommerce. Squirrly helps business owners create an SEO strategy for their site in order to increase search engine rankings and attract more traffic.
Here are the main features it offers:
Customize the title and meta description for every page type, including products
Sitemap.xml
Robots.txt
JSON-LD structured data
Canonical link
Set no-index for every page
Open graph and Twitter card
Tracking Tools (Google Analytics, Facebook Pixel, Facebook Insights)
Import SEO settings from other SEO plugins
Keyword research for up to 140 countries
Virtual SEO live assistant that helps you optimize content
Copyright-free images
Inner linking – Search and insert blog quotes in your post
Ranking analytics for all the pages optimized with Squirrly
Weekly site audit that analyze 6 important aspects: blogging, links, SEO, social, authority, traffic.
In total, Squirrly offers over 200 features that WordPress site owners can use to maximize their chances of being on the first page of Google. Find out more about Squirrly SEO here.
SEOptimer
No Description.
Solo SEO
No Description.
Structured Data Markup Helper
No Description.
Text Tools
Text Tools is a revolutionary software designed to enable users to search for terms that are semantically related to a specific keyword. The software is simple to use but sophisticated and works by using a derivate of the TF-IDF algorithm to establish the relevancy of your text for the keywords you hope to target. Text Tools reveals the weakness of a website's content but also suggests related keywords that should be included in order to optimise the text. The software is highly useful for internet marketers and online copywriters although it is also a priceless tool for anyone looking to improve their website's search engine ranking through relevant content.
Text Tools offers a service to get TF-IDF, Synonyms & Co-occurrences in one place.
TrendSpottr
No Description.
Upcity
No Description.
YoRocket
No Description.
BACKLINK ANALYSIS TOOLS
Ahrefs
No Description.
cognitiveSEO
From backlink analysis to content audit, cognitiveSEO has helped numerous SEO experts in their business. The toolset has features for getting a comprehensive analysis in one place regarding the backlink profile, content optimization insights, rank tracking evolution, social media signals, Google updates prognosis.
The thing that makes cognitiveSEO unique is the fact that it offers you the possibility to make an in-depth analysis with on-demand page crawling after analyzing each link and showing you a variety of metrics for each one of them. This means you can see where each backlink is placed on a page, its context, the HTTP status code and many other.
Another unique feature that we have is the Unnatural Links Detection tool which helps webmasters avoiding or recovering from Google's Penguin update and other penalty-worthy issues.
Our latest addition, the Keyword Tool and Content Assistant, is the element that complements the toolset and offers the possibility to create optimized and relevant content that will rank in top SERPs.
Kerboo
Kerboo is a link intelligence platform, we help people understand the strengths and weaknesses of their link profile and offer tools to help solve any issues. We have two award winning metrics; LinkRisk , which describes the risk of each link and LinkValue, which shows what value it is likely to pass.
Link Research Tools
No Description.
Majestic SEO
Majestic's primary product is a map of the internet, produced via our own distributed web-crawler MJ12BOT, and we have many proprietary tools (such as Clique Hunter, Keyword Checker and Neighbourhood Checker) and 'Flow Metrics' (such as Trust Flow, Citation Flow and Topical Trust Flow) that help SEOs better understand the links between sites on the internet, and learn how to improve their own site's backlink profile.
We have two indices.  Our Fresh Index which is updated daily:
FRESH INDEX
Unique URLs crawled – 528,366,101,772
Unique URLs found – 1,227,892,142,951
Date range – 10 Feb 2018 to 13 Jun 2018
Last updated -1 hour 22 minutes ago
and our Historic Index which is updated monthly, and contains over 5 years worth of crawled data, making it the largest of its kind:
HISTORIC INDEX
Unique URLs crawled  – 1,649,346,924,707
Unique URLs found – 7,331,616,235,522
Date range – 21 Sep 2012 to 23 Apr 2018
Last updated – 24 May 2018
Monitor Backlinks
No Description.
Moz Pro
In essence, Moz Pro is a suite of analytics tools that will pull mounds of data to help you implement your own SEO strategies! Here's a rundown on some of the major types of data we offer:
Site Crawl data: We crawl your site and look for issues with how the site is set up that may impact a search engine's ability to crawl your site's content. You can use this to make sure that all the pages on your site can be found and ranked on search engines.
Rankings: Monitor your keyword ranking performance in the top 50 search results for up to 3 search engines and 3 competitors per Campaign.
Page Optimization: Check how well-optimized your pages are for each top ranking page for the keywords you're tracking. (The score is out of 100 — the higher the number, the better the page's content is optimized for the keyword.) If you click into a grade report, we provide recommendations on how to better optimize for that keyword.
Link Data: We provide information about the highest quality links you're receiving (one of the biggest factors behind where you rank in a search engine), links your competitors are getting, and places where a site mentions your brand name, but doesn't link to you (link opportunities).
Research Tools: By having a paid Moz Pro subscription, you can also use all of our Research Tools. Link Explorer is great for link research. Keyword Explorer are good supplements to keyword research, while the On-Page Grader gives you insight into the on-page SEO of any URL and keyword combo. The Crawl Test will run manual mini-crawls on-demand for you.
MozBar
The Mozbar makes it really easy to do research on the fly while you browse the web.
Open Link Profiler
No Description.
SEO PowerSuite
No Description.
SEO Tools for Excel
SeoTools for Excel integrates popular services such as Moz, Google Analytics/Search Console, Majestic, and makes extraction of data and evaluation of links/domains/keywords very easy. SeoTools comes with a wide range of Connectors and over 100 helper functions like XPathOnUrl, RegexpFind, SpinText and UrlProperty. Combined with the formula-based environment in Excel makes this a powerful tool for anyone looking to take their SEO to the next level!
SEO Weather's Bulk Metrics Checker
No Description.
SEOGadget for Excel
No Description.
ShareMetric
No Description.
URL Profiler
URL Profiler is a data collecting tool for SEOs and digital marketers. It connects to various popular APIs, such as Ahrefs, Majestic and Google Analytics, then stitches the data together for you in a spreadsheet format. You feed it with a list of URLs, select the data points you wish to collect and let it do its thing.
WebMeUp Backlink Tool
No Description.
VIDEO SEO TOOLS
Morningfame 
Morningfame helps you to grow your YouTube channel strategically. Its analytics part helps you understand which video topics work best for your audience, which aspects of your videos need improvements and more. Its SEO part allows you to optimize your videos to rank them in search. One cornerstone of its SEO process is measuring the competition of a search term relative to your own channel size. This way you can easily see if you have the chance to rank for a given search term or if you should look for alternative less competitive search terms. This is particularly important for small channels to get their foot in the door.
Social Blade
No Description.
TubeBuddy
TubeBuddy is a powerful browser plugin that will save you time & money, boost video performance and help you engage with your audience.
TubeBuddy is a browser extension which adds a layer of amazing functionality right on top of YouTube's website. We recognize the endless frustrations that people face every day on YouTube's website. Our Mission is to make you and the rest of the YouTube Community a happier and more productive bunch.
TubeBuddy is a browser extension (aka browser plugin) that adds a layer of tools directly on top of YouTube's website.
After installing TubeBuddy, simply go to YouTube.com and you'll see our features right inside their site designated by the TubeBuddy logo.
In addition to the extension, we offer a bunch of other tools which can be found on Your Account Page after linking a channel.
VidIQ
We have more than 50 tools designed to help you with optimizing your SEO, engaging more wisely with your audience, making creative thumbnails, video archival and syndication feature, etc.
This video covers 50 of those tools: https://www.youtube.com/watch?v=MiIwnmiy6mU
The best way to learn more about our software and get much more information is to have a look at our well-written tutorials: 
http://support.vidiq.com/
WordLift
WordLift is the first semantic plugin for WordPress that uses natural language processing and linked data publishing for automating structured data markup. It's the perfect tool for content writers, marketers, journalists, bloggers and for anyone that struggles to get reader's attention on the web. WordLift analyzes articles and transforms text into machine-friendly content to improve the audience engagement and to increase the organic traffic of a website. While optimising and efficiently organising your content, the plugin also provides support for recommendations about content creation process, allowing you to reach and speak directly to your targeted public.
Having your web content organised on a structured internal vocabulary rather than on traditional web pages helps both users and machines find and access it, improving navigation, content re-use, content repurposing, and search engine rankings.
This AI-powered SEO tool adds schema markup using 5-stars linked data: invisible to visitors but essential if you want the Google Knowledge Graph to pick up information about yourself and your business. WordLift also creates internal links using named entities (things, people, events, offers, …) detected within the text of your articles, adds semantically relevant recommendations, suggests facts and information to provide your readers with meaningful context and to get the most out of your site, while reducing the time you have to spend on content optimization. The structured data markup automation provided by the plugin helps you gain CTR on the SERP with rich results. The tool is available as a WordPress plugin and as JavaScript library for any other CMS.
YTCockpit
No Description.